What You Need to Do After a Bike Crash in Nebraska
BIKE CRASHES HAPPEN. HERE'S A STEP-BY-STEP GUIDE TO CHECK YOURSELF AND YOUR BIKE BEFORE RIDING ON.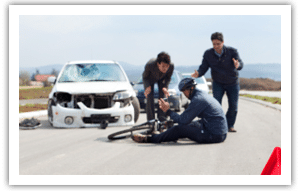 As regular bike riders, we know that if you ride, at some point you're going to have a bike crash or be witness to a bike crash. Knowing this, it's best to be prepared.
The first thing you want to do after a crash is avoid scrambling to your feet. Before you get off the ground, take a quick self-inventory and make sure you don't have any major injuries. Assuming all of your parts are where they should be, for instance, all of your limbs attached and intact, move quickly to a safe spot off the road or out of the way of other riders and continue assessing.
Bicycling in Nebraska Crash Checklist Read more
https://inserra.com/wp-content/uploads/2018/07/inserra-kelley-sewell-omaha-attorneys-logo-2-ssl.png
0
0
clkkelley
https://inserra.com/wp-content/uploads/2018/07/inserra-kelley-sewell-omaha-attorneys-logo-2-ssl.png
clkkelley
2019-03-22 16:39:27
2019-05-01 23:45:37
What You Need to Do After a Bike Crash in Nebraska