DePuy Attune Knee System Problems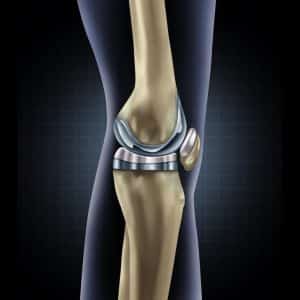 DePuy Attune Knee Systems May be Prone to Failure
While knee replacement surgery can offer relief for those who suffer from pain and limited mobility, in recent years, there have been many reports of failure associated with these implants and serious injuries have resulted, including patients in Nebraska. In some cases, patients sustain an increase in pain and restrictions that exceeds what they had before the implant.
Artificial joints are generally expected to last a minimum of 15 years, but some fail much sooner. Patients are currently experiencing severe side effects from the DePuy Synthes Attune Knee Replacement system, including premature failure, sometimes only a year or two after implant. Despite the fact there is no active recall on the DePuy Attune knee system, INSERRA l KELLEY l SEWELL is active investigating Attune knee failures and complications.
The complaints lodged by patients implanted with the Synthes Attune system describe tibial baseplate loosening of the knee implant, which may lead to:
Pain
Infection
Inflammation
Bone or muscle damage
Painful revision surgery
Extensive rehabilitation
Many patients also report a loss or lack of bonding of the knee component to the bone after the failure, which frequently leads to additional surgical procedures.
How to Tell if Your Attune Knee Implant Has Failed
Patients who have experienced Attune Knee Implant failure have described the following symptoms:
Instability in the knee when standing or when weight is put upon it.
The knee moves backwards or sideways.
Fluid build-up leading to inflammation and swelling.
Constant throbbing pain.
Warmth or heat in the knee that returns months after surgery.
There are approximately 600,000 total knee replacement surgeries performed annually in the U.S., and experts predict that primary knee replacement will increase to 3.48 million each year by 2030.
It is very common for patients to be misdiagnosed and not evaluated for the loosening between the tibial tray and the cement mantle that is intended to bond between the metal prosthetic and the bone. Upon x-ray, many of the patients are not diagnosed because of the "piston effect;" essentially the movement of the device in and out of its bonded position during ambulation, but in proper position during x-ray where it is difficult or impossible to see the lack of bond between the component and the bone cement. Upon proper diagnosis and removal, physicians are surprised to find lack of adherence of cement or bone fixed to the device. In fact, surgeons have described seeing the metal tibial insert clean from any bond—essentially looking the same as it did when it was removed from the sterile packaging and implanted. Why is this happening? Time will tell to determine the root cause.
If you have suffered complications from your DePuy Synthes Attune Knee Replacement system, please call us. Please tell us your experience, if for no other purpose to help us investigate and understand for the patients we represent. We are available to answer your questions and provide you with more information about your Attune Knee Device.
We work hard for our clients by listening to their needs, focusing on their health, and then fighting aggressively for the help they need. Below are testimonials from some of these great clients. Contact us to see how we can help you.
If you are looking for an attorney, don't make the same mistake I did. After a terrible experience with one of Omaha's largest firms, I soon realized why they have to continuously advertise on the radio and television. Inserra & Kelley's personal and hands-on approach is a much better way. Craig Kelley has handled several cases for my family and I, all of which I am convinced were handled fairly and appropriately. I would highly recommend Inserra & Kelley to anyone. Thank you, Craig Kelley.
I am very pleased with the way that the Inserra & Kelley law firm handled my case. You are a very good law firm.
I was treated as if I was someone very important. I felt as if they were very concerned about my well-being and wanted to do the very best for me. Inserra & Kelley, Attorneys at Law, work for you and will do all they can for you. You are important to them.
To Whom It May Concern,
I would like to express my complete satisfaction and offer a recommendation of the services of Inserra and Kelley Law Firm.
On Dec 10, 2010 I was involved in a motorcycle/motor vehicle accident. I enlisted the help of Craig Kelley almost immediately after the accident because he was recommended as a motorcycle accident specialist.
I was temporarily unable to leave my home due to my injuries but Mr. Kelley took time out of his personal schedule to visit me in my home to begin the preliminary paperwork to initiate litigation against the rental car company involved who denied responsibility for my accident.
At that time Mr. Kelley advised patience when litigating issues of this type. He gave me an overview of the process and expressed great confidence that his efforts would result in a favorable settlement.
He couldn't have been more correct on both counts; my case ultimately lasted two years but the patience Mr. Kelley advised resulted in the settlement he predicted the very first day we met.
At all times during this two year period Mr. Kelley was responsive, straightforward, and accessible. All the while being aggressive with at-fault party's insurance carrier. He went out of his way to achieve his utmost for my wife and I, for which we are very grateful. Inserra and Kelley processed all of my medical bills to correct insurance companies.
I no longer live in Nebraska and hope to never need the services of a personal injury law firm again. But if I did, I would without hesitation seek out Inserra and Kelley and Mr. Craig Kelley himself.
Thank you for your assistance on handling my claim. I was satisfied with the settlement and with the way you and your office handled this matter.
Just wanted to say thank you all so much for everything you've done related to my case. I feel fortunate to have learned about your firm and that you took my case. You believed in helping me and I'm grateful. The experience of my injury and recovery was difficult, but knowing I had great legal support behind me made a difference. So, thank you all so much!!
When I was first injured on the job at Union Pacific, I called into the yard office for Workers' Comp paperwork to give to my doctor. That's how little I knew about the FELA law and settlement process. Over the several years of my case, I leaned heavily on John Inserra and his staff for support and counsel. In every instance, John and his staff honored each point of their "pledge", while totally excelling at the "attorney/client communication throughout the claims process" part. Every phone call and communication was attended to with old-fashioned, genuine concern. After I received my settlement, John said "I think you're better off now," and I agreed. I love my house that I bought. I will refer anyone in need of an attorney to John Inserra. An added plus . . . John was always willing to listen to my "lawyer jokes!"
I have had several cases with Inserra Law. All cases have been handled promptly, fairly and professionally. I never had to worry about not receiving proper follow up with my medical needs. Craig Kelley always took care of whatever was needed in order to receive the care and compensation required. I have referred several clients and will continue to refer clients to this firm.
I am very pleased with the way John Inserra took care of my case. From the first time we met, I knew I had chosen a very trustworthy firm. It is always a pleasure to know when I have a question; I can always get a fast, knowledgeable answer. John is very good about explaining everything in "common terms" and is very good about handling things in a professional manner. Inserra & Kelley will always be my number one recommendation.
I was so pleased to have chosen Craig Kelley as my legal counsel. The professionalism of Mr. Kelley and his staff made me feel comfortable and secure in knowing he would do all that was legally necessary to achieve a positive outcome. Through his diligence and hard work, my case was successful. Not only did I have outstanding representation; but I also gained a friend.
My personal injury case was handled in a very professional and courteous manner. The settlement that was done outside of court was very substantial and quite satisfactory. I would highly recommend the Inserra law offices. They did a fantastic job for me.
I am very satisfied the way you and your staff handled my claims, especially all the time you put into it. I most certainly will refer you to friends of mine if they need a very reputable and dependable law firm as yours. I know there is no better law firm than yours.
I have always found the Inserra Law Firm to be quick and responsive to my questions and needs as they would arise regarding personal injury. I always felt John Inserra's council was professional and accurate for my needs. Paralegal, Randy Mendlik, was very helpful on several occasions. One appreciates a law firm showing personal concern for their clients.
John and staff are great to work with. They were always there to answer any and all questions that arose.
I was very pleased with the services of Inserra Law Offices. They were very professional. I received a great in-service settlement. I was also pleased with investigator, Jim Webster, as he was always in touch with me to see how I was before and after my surgery. The Firm worked hard for me and I would recommend their services to anyone!
I am thoroughly pleased with everyone at Inserra Law Firm. They won both cases that I had with them, including one appeal. I don't think anyone could have done better!
The Inserra Law Firm is a very professional, genuinely concerned firm that I would recommend without hesitation to anyone! I would use their services again, if needed, with no reservation whatsoever.
Inserra Law Offices has acted as my legal counsel on several occasions. Each time they represented me I was very pleased with their work. I look forward to a continuing business relationship and friendship with Inserra Law Offices.
Inserra & Kelley was like a God-send to us!
We would like to take the time to send my thanks to Inserra & Kelley for their help with the motor vehicle accident we had upon our arrival in Omaha in 2010.
Not knowing a soul here, your office was a God-send to us. You helped us get our vehicle repaired and after analyzing our insurance coverage, you helped us find the proper medical help for our injuries.
Craig was a sympathetic and compassionate attorney. He shielded us from harassing calls from the insurance companies that allowed us to focus on our recovery from our injuries.
Inserra & Kelley utilizes a specialized team approach, which meant at every step of our case, we had an expert to guide us. It is with great satisfaction that I will gladly refer your firm to anyone.
Inserra & Kelley doesn't treat you as just another client. Even though you don't see most of what they do, you know they are working hard to do what's best for you. Thanks again for all of your help.
In January 2007, while walking through a parking lot, I was hit by a motor vehicle. I sustained a tibia plateau fracture, which caused me much pain and suffering. It altered my life in ways I never thought possible!
Eighteen months later, after two failed surgeries, I found Craig Kelley of Inserra and Kelley Law Firm online. Prior to contacting Craig, I had consulted with two other attorneys that were neither helpful nor encouraging.
Mr. Kelley was very knowledgeable about my injury and future medical treatment that I would need. He and his staff were always very professional and responsive to my needs, returning my calls the same day, two at the most. Craig is very aggressive and a real go-getter. He took the time and was dedicated; seeing my case through. We reached a settlement with my insurance company beyond my expectations, without going to court.
I am very grateful to Craig and his friendly professional staff for supporting and helping me through a very difficult time in my life. I would highly recommend Craig Kelley and Inserra Kelley Firm to someone with a personal injury without hesitation. If the occasion would arise that I would need legal representation in the future, I know that Craig would be there for me.