Erectile Dysfunction Medications Linked to Blindness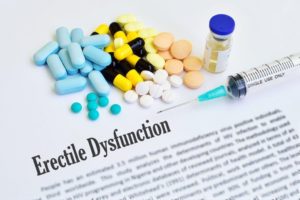 Erectile dysfunction drugs have become big sellers since the first one, Viagra, was approved in 1998.  Viagra, Cialis, and Levitra are enormous money makers for the drug companies that manufacture them.  What many people may not realize is that Dr. Howard Pomeranz, a neuroopthalmologist and associate professor at  Hofstra Northwell School of Medicine in New York is speaking out about the drugs' side effects of blindness.  Dr. Pomeranz has been letting the public know that he had a patient who used the drug and found that within an hour he was did not have vision in one of his eyes and that he has been hearing of similar patient cases and published reports of people experiencing blindness after Viagra back in 2005.  The Food and Drug Administration (FDA) became involved and warnings were put on labels for Viagra, Cialis, and Levitra, while at the same time the drug companies downplayed the risk of permanent vision loss from the optic nerve having its blood flow shut off.  The official name for the disease is anterior ischemic optic neuropathy and it had always been linked to diseases in the body that compromised circulation, such as blood pressure problems, diabetes, and other issues.  Dr. Pomeranz reports that the FDA then required that the three major manufacturers of the drugs do in depth studies, but as of 2017 only Pfizer, the maker of Viagra, had complied.  That Pfizer study proved that those taking Viagra were at risk of developing ischemic optic neuropathy within 24 hours of taking the drug or other such erectile dysfunction drugs, which was two times the risk of those not taking these drugs.  Pfizer did update its labels but still contends that it is really not scientifically possible to state that the blindness is caused by the erectile dysfunction drugs versus other reasons and conditions, but Dr. Pomeranz contends that this eye disease is likely greatly under reported beyond the 40 or so cases Pfizer reports and the hundreds of cases on the FDA reporting database, so he is getting the word out to his fellow ophthalmologists since they are not the doctors who prescribe the drugs.  While Dr. Pomeranz does not say that patients should not use the erectile dysfunction drugs, he is contending that it is very necessary for patients and medical providers to know the risks and weigh them against the benefits.  
If you or a loved one has been diagnosed with a problem related to erectile dysfunction drugs, or any medical device, drug, or other product, consult your medical provider and please contact Inserra Kelley Sewell, Personal Injury Attorneys to discuss your possible claim and entitlement to compensation for your damages.     
https://inserra.com/wp-content/uploads/2018/07/inserra-kelley-sewell-omaha-attorneys-logo-2-ssl.png
0
0
Mikala Harden
https://inserra.com/wp-content/uploads/2018/07/inserra-kelley-sewell-omaha-attorneys-logo-2-ssl.png
Mikala Harden
2017-04-08 13:06:57
2018-01-12 02:53:51
Erectile Dysfunction Medications Linked to Blindness