Fiat Chrysler Pickup Recall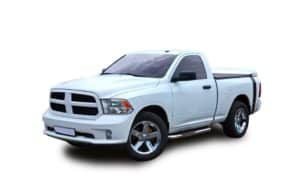 The latest in automobile recalls just announced is out from Fiat Chrysler.  The auto giant has put out the word it is recalling  a million North American pickup trucks with a problem in the software that is keeping the side air bags and seat belts from deploying in rollover motor vehicle incidents.  So far, Fiat Chrysler knows that one person has been killed and two people injured because of this glitch in its Dodge Ram Pickups. 
The recall includes 2013 to 2016 Ram 1500 and 2500 pickup trucks, as well as 2014 to 2016 Ram 3500 pickup trucks.  In Canada, there are around 216,007 pickups affected; in Mexico, there are about 21,668 pickups affected; and in regions outside the NAFTA (North American Free Trade Agreement) region, there are about 21,530 pickups affected. 
The software glitches occur with underbody damage/impact, so that the side air bags and seat belt pretensioner are disabled temporarily.  The vehicles can be turned off, then back on, and the restraints work again.  If you own one of these pickup trucks, fortunately Fiat Chrysler will be reprogramming your truck's software at no charge to you.  Call your local Fiat Chrysler servicer, go to Fiat Chrysler's website, or check with any recall letter you have received for more information on the logistics of getting your vehicle fixed.   
We urge vehicle owners who may possibly own any of the subject Fiat Chrysler pickup trucks to immediately take steps to get the matter remedied, as not doing so could prove fatal or life-changing to you and/or your loved ones. If you or a loved one has already been injured or worse due to an auto defect, do not hesitate to contact the professionals at Inserra | Kelley | Sewell Law Offices to see if you may be entitled to compensation. 
https://inserra.com/wp-content/uploads/2018/07/inserra-kelley-sewell-omaha-attorneys-logo-2-ssl.png
0
0
Mikala Harden
https://inserra.com/wp-content/uploads/2018/07/inserra-kelley-sewell-omaha-attorneys-logo-2-ssl.png
Mikala Harden
2017-05-12 15:03:03
2018-01-12 02:46:26
Fiat Chrysler Pickup Recall