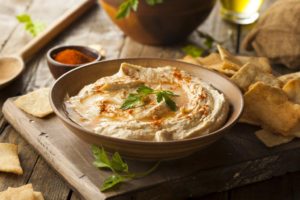 If you are like most, you are probably ready to be told any way to avoid sickness, as in listeria illness, over the upcoming holiday season.  Sabra Dipping Company is the latest food company to issue a recall due to the possibility certain Sabra Hummus products may contain listeria monocytogenes.  The hummus products were distributed in the United States and Canada, so if you have recently purchased the product, you may go online to www.sabrahummusrecall.com to see if your particular product is one of the affected.  You may also phone Sabra at 1-866-265-6761.
Remember, listeria borne illness is nothing to joke about, as it can be fatal at times, especially in the very young, the very old, the very frail, or those with very suppressed immune systems.  Symptoms can include fevers, terrible headaches, abdominal pain, nausea, vomiting, diarrhea, and even stiffness.  Since these symptoms seem to mimic those of the flu or some other viruses, it is important that medical providers be contacted first.
If you or a loved one has already become sick after consuming a Sabra Hummus product, consult your own medical provider immediately and do not hesitate to contact Inserra Kelley Sewell, personal injury attorneys, to see whether you may have a claim.    
https://inserra.com/wp-content/uploads/2018/07/inserra-kelley-sewell-omaha-attorneys-logo-2-ssl.png
0
0
Mikala Harden
https://inserra.com/wp-content/uploads/2018/07/inserra-kelley-sewell-omaha-attorneys-logo-2-ssl.png
Mikala Harden
2016-11-21 14:37:51
2018-01-13 00:47:10
Sabra Hummus Recall