INSERRA KELLEY SEWELL, NEC PREMATURE BABY LAWYERS IN OMAHA, NE
If your child received bovine-based/cow's milk baby formula in the maternity ward or NICU of a hospital, or you received bovine-based baby formula as a present from the hospital, and your child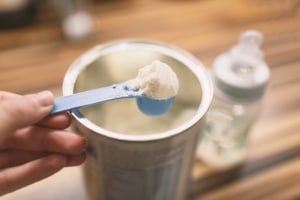 was diagnosed with necrotizing enterocolitis (NEC), you may be eligible to file a lawsuit. Inserra | Kelley | Sewell injury attorneys are taking toxic baby formula cases. Contact our NEC injury lawyer today, 800-642-1242. Craig Kelley will give you free case consultation. You may also or use our chatbot to find out if you qualify.
Milk-based infant formulas by Similac and Enfamil, which were designed specifically for premature infants, have been linked to a deadly condition.
More on NEC
Necrotizing enterocolitis (NEC) causes intestinal tissue to die, according to the Cleveland Clinic. Holes can also develop in the intestine, allowing bacteria to leak into the baby's abdomen. NEC may lead to additional serious health problems, including:
Abdominal infection called peritonitis
Sepsis
Intestinal stricture, or narrowing of the intestines
Short bowel syndrome, difficulty absorbing fluids and nutrients
Many of the effects of NEC require surgery to attempt to repair the damage done to a baby's abdomen and intestine. If the condition is not fatal, infants may also suffer from growth failure and neuro-developmental issues.
Symptoms of NEC
Abdominal pain and swelling
Diarrhea with bloody stool
Green or yellow vomit
Changes in heart rate and blood pressure
Changes in body temperature and breathing
Refusing to eat
Lack of weight gain
Lethargy
Tragically, premature babies have suffered severe injuries or died after ingesting cow's milk-based formula—and their parents were never warned of the risks. Several parents have filed lawsuits against Abbott Laboratories and Mead Johnson & Company to seek justice for the harm done.
If your baby was fed cow's milk-based formula, suffered abdominal injuries, and was diagnosed with NEC contact Craig Kelley at Inserra | Kelley | Sewell. We can help you get answers. Call 800-642-1242. There is no obligation when you contact us.
Toxic Baby Formulas
Many of the formulas administered in hospitals contain cow's milk and can potentially be harmful to your child. Here are popular bovine-based formulas to be aware of:
Formulas used in NICUs
Formulas gifted from hospitals
Enfamil
Similac
Earth's Best
Happy Baby
Go & Grow
Gerber
Parent's Choice
Baby's Only
Loulouka
Holle
Kendamil
Bobbie
Lebenswert
If your hospital administers any of these formulas in the NICU, ask them about the best course of action for you and your child. Stopping use and switching to breastfeeding or other alternatives may help avoid necrotizing enterocolitis.
Inserra Kelley Sewell, Toxic Baby Formula NEC Lawyers in Omaha, NE
If you believe act your child qualifies to participate in a toxic baby formula NEC lawsuit, contact ISK to speak with an experienced attorney. You'll get a free, no-obligation, case consultation to discuss your legal options.
Inserra | Kelley | Sewell Injury Attorneys is a personal injury law firm dedicated to fighting for injured individuals in eastern Nebraska and western Iowa. ISK operates on a contingency fee basis ensuring we are as dedicated as our clients to getting the best results possible.
Related Articles:
Necrotizing Enterocolitis (NEC) – Cleveland Clinic
What are the symptoms of necrotizing enterocolitis (NEC)? – National Institute of Health
Baby Formula Lawsuits for Necrotizing Enterocolitis (NEC)
We work hard for our clients by listening to their needs, focusing on their health, and then fighting aggressively for the help they need. Below are testimonials from some of these great clients. Contact us to see how we can help you.