Tyson Chicken Nugget Recall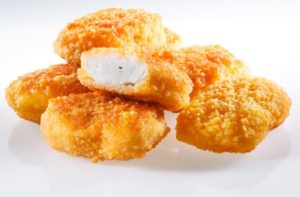 Tyson Foods, Inc. is the latest food company issuing a recall.  The Sedalia, Missouri company is recalling around 132,520 pounds of chicken nuggets because they may contain hard plastic foreign matter.  The U.S. Department of Agriculture's Food Safety and Inspecion Service (FSIS) made the announcement regarding Tyson Foods' Panko Chicken Nuggets from production on July 18, 2016.  They came in five pound bags, but also twenty pound bags with the name Spare Time. 
Tyson was not aware of the problem with the contaminated chicken nuggets until customers began lodging complaints about finding the plastic material in the chicken nuggets, ranging from 21 millimeters long and 6 ½ millimeters in diameter.  The plastic is suspected to have come from a plastic rod connecting a plastic transfer belt on the production line.  Although the company runs the chicken nuggets through a metal detector to check for metal pieces, there is nothing to detect plastic or other such foreign materials in the products.  Tyson and the FSIS encourage consumers to check their chicken nuggets to see if they are affected and to either dispose of them or take them back to where they bought them.  The recall is a Class I recall which the USDA defines as "a health hazard situation where there is a reasonable probability that the use of the product will cause serious, adverse health consequences or death, according to  USDA Recall Classifications.   
    If you or someone you know have any of these products in your home, dispose of them promptly.  If you or a loved one suspects sickness or injury from the products, see your medical provider immediately.  You may also feel free to call Inserra Kelley Sewell to discuss possible compensation you might be entitled to in the case of contaminated products. 
https://inserra.com/wp-content/uploads/2018/07/inserra-kelley-sewell-omaha-attorneys-logo-2-ssl.png
0
0
admin
https://inserra.com/wp-content/uploads/2018/07/inserra-kelley-sewell-omaha-attorneys-logo-2-ssl.png
admin
2016-09-30 02:34:21
2018-01-17 22:52:22
Tyson Chicken Nugget Recall