Watch for Motorcycles: May is Motorcycle Safety Awareness Month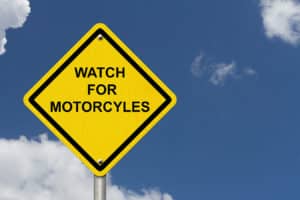 Did you know that 62% of motorcycle fatalities occur between May and September? Why is that? May is National Motorcycle Safety Awareness Month for a reason. Favorable weather conditions and a desire to be outdoors encourage motorcyclists to reoccupy their equitable share of the open road by joining other motorists in route to their desired destinations. While motorcyclists are entitled to the same rights and consideration granted to drivers of four-wheeled vehicles, the majority of vehicles on the road are not motorcycles. Right or wrong, most drivers rarely think of motorcyclists as drivers (not unlike themselves) that must be regarded with the same caution and deference as other motorists.
This is a problem.
Motorists concerned solely with their own vehicle—and vehicles like theirs—still bear a substantial responsibility in maintaining the safety of motorcyclists on the road. When motorcycles and four-wheeled vehicles collide, predominately it is the driver of the non-motorcycle vehicle who violates the motorcyclists' right of way. There are a variety of reasons why motorcycles are discounted. Being mindful of these routine conditions may prevent the next motorcycle fatality or serious injury from occurring:  
Motorcycles are smaller relative to other vehicles

Motorists sometimes fail to anticipate a motorcycle's movements

Motorists' view of a motorcyclist is sometimes blocked by their own vehicle's blind spots or by the presence of other vehicles

Motorists are sometimes distracted while driving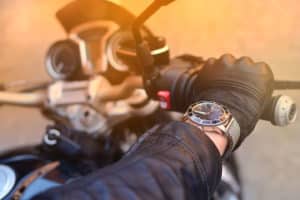 National Motorcycle Safety Awareness Month was created in recognition of the hazards that drivers of all vehicles encounter when defensive driving, environmental awareness, and vigilant alertness are abandoned in favor of distraction and recklessness. The aim of Motorcycle Safety Awareness Month is to remind drivers and riders that they share equal responsibility for each other's safety. Driving defensively and free of distraction means:
Putting cell phones away until the vehicle is no longer in motion

Keeping one's eyes on the road at all times when the vehicle is operational

Using turn signals when switching lanes, repositioning, or changing direction

Acknowledging the right of way of other vehicles when necessary

Being aware of the surrounding environment
If drivers and riders pledge to defend common courtesy and regard for all motorists, America's roadways will be the cathartic and liberating place where drivers and riders can revel in their abandon and passion for the open road.
Ride on.

If you or someone your care for has suffered an injury due to a motorcycle collision, please contact the experienced, compassionate professionals at Inserra | Kelley | Sewell, Injury Attorneys. Safeguarding motorists' wellbeing and quality of life is our passion. We want to protect your right to compensation for your injuries.
https://inserra.com/wp-content/uploads/2018/07/inserra-kelley-sewell-omaha-attorneys-logo-2-ssl.png
0
0
Mikala Harden
https://inserra.com/wp-content/uploads/2018/07/inserra-kelley-sewell-omaha-attorneys-logo-2-ssl.png
Mikala Harden
2018-05-07 10:20:37
2018-06-05 13:30:37
Watch for Motorcycles: May is Motorcycle Safety Awareness Month