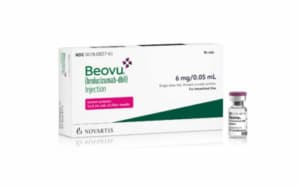 Beovu Lawsuits – Vision Loss & Blindness
Beovu lawsuits claim the manufacturer of Beovu failed to adequately warn patients and doctors the drug could result in vision loss and blindness.
Inserra | Kelley | Sewell law firm is accepting clients who received Beovu injections and have been diagnosed with retinal vasculitis, retinal artery occlusion, intraocular inflammation, or other vision problems.
What are Beovu Lawsuits?
In October 2019, pharmaceutical company Novartis announced it received approval from the U.S. Food and Drug Administration (FDA) to market the drug Beovu (brolucizumab). The FDA cleared Beovu as a treatment of wet age-related macular degeneration (AMD), a chronic eye disorder causing blurred vision and visual distortions.
Months later, the American Society of Retinal Specialists (ASRS) alerted doctors to fourteen (14) reports of vasculitis—an inflammatory condition affecting the eye—in patients who took Beovu. That number later rose to 25, with 21 of the patients suffering from a type of vasculitis that could lead to blindness.
At the time, there were no warnings on the product label about the risk for vision loss.
Inserra | Kelley | Sewell is currently investigating cases in which patients took Beovu and then suffered serious eye damage and/or vision loss. The primary legal issue is whether drug manufacturer Novartis failed to adequately warn doctors and patients about the potential vision-related side effects caused by Beovu injections. As of early 2020, Novartis had shipped more than 70,000 Beovu vials to prescribing doctors in the U.S.
Beovu Injuries & Side Effects
The National Library of Medicine (NLM) reports a list of potential side effects associated with Beovu injections. The side effects can lead to serious complications, and the NLM recommends seeking emergency medical treatment if you experience any of the following symptoms:
Changes in your vision
Pain or redness in your eye
Sensitivity to light
Bleeding in or around the eye
Vision affected by "floaters" and/or small specks
Hives, rash, redness, or itching
Swelling of the eyelid or the eye
The key side effects from Beovu lawsuits include:
Retinal vasculitis
Retinal artery occlusionOcclusive retinal vasculitis
Vision loss
Blindness
Despite these concerns with eye damage, Beovu remains on the market. Novartis continues to stand behind the drug as a safe and effective treatment for wet AMD. This means patients remain at risk, particularly if they have pre-existing inflammatory conditions of the eye.
Over 70,000 patients took Beovu between October 2019 when it was approved and June 2020 when the warnings were updated. All of those patients lacked the knowledge they should have had about the drug's potential risks and dangers. Patients who trusted the manufacturer and now suffer eye damage may be entitled to financial compensation.
Contact Inserra | Kelley | Sewell Attorneys today
If you took Beovu and were later diagnosed with retinal vasculitis or other forms of vision damage or vision loss, you may be eligible to file a Beovu lawsuit to recover damages. ISK attorneys is now investigating these cases and invites you to call today at 800-642-1242.
More information:
We work hard for our clients by listening to their needs, focusing on their health, and then fighting aggressively for the help they need. Below are testimonials from some of these great clients. Contact us to see how we can help you.