EXATCH JOINT RECALL (Knee, Ankle Hip) Nebraska, Iowa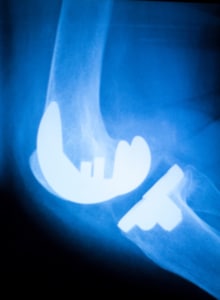 Nebraska and Iowa residents who underwent knee and ankle joint replacement with Exactech devices may be at risk for premature failure of these implants.
Exactech notified surgeons it is recalling all of its knee and ankle polyethylene inserts packaged in non-conforming plastic bags. These non-conforming bags may allow oxygen into the package, resulting in damage to the insert that could lead to implant problems and failures.
The defective product liability lawyers at Inserra | Kelley | Sewell are investigating cases in which patients were implanted with Exactech devices and experienced related problems or had to undergo revision surgery.
Give Craig Kelley at IKS Attorneys a call today to schedule a complimentary consultation at 1-800-642-1242.
What Systems Are Recalled?
Devices affected by this expanded recall include:
OPTETRAK Tibial Inserts (introduced in the U.S. in 1994)
OPTETRAK Logic Tibial Inserts (introduced in the U.S. in 2009)
TRULIANT Tibial Inserts (introduced in the U.S. in 2017)
VANTAGE Fixed-Bearing Liner Component (Introduced in the U.S. in 2016)
In total, this expanded recall affects nearly 150,000 devices.
Common Knee Replacement Complications
If something goes wrong with a knee replacement, numerous symptoms may occur, including:
Knee pain
Grinding sensation
Joint beginning to lock up
Stiffness
Reduced range of motion
Swelling, redness
Loss of mobility
Instability or trouble balancing
Trouble getting up from a seated position
Popping or clicking sounds when walking
If the problem worsens, leading to eventual implant failure, other complications may occur:
Inflammation and redness
Severe pain
Tissue and bone damage
Muscle damage
Loosening of the implant
Disassociation of the insert
Infection
Change in position of the components
Knee replacement failure
The need for knee replacement surgery
Are You In Need of Revision Surgery?
Revision surgery is performed on a patient who had prior joint replacement surgery. It is done to either fix a problem with that implant or to replace it completely.
Who is Eligible for the Lawsuit in Nebraska or Iowa?
If you were implanted with any of the Exactech devices listed above—including those in the recall and those highlighted in studies of premature failure—and then you suffered from complications and had to go through revision surgery, you may be eligible to file an Exactech lawsuit.
Are My Doctors Aware of This Recall?
Your doctor is likely aware of this recall, but contact them to talk about concerns you have. Exactech sent out urgent medical device notifications to all doctors who purchased the recalled Exactech devices, as well as to healthcare and medical centers. The FDA has also listed these recalls.
Exactech recommended that surgeons stop implanting the inserts affected by the recall, and discuss the risks with patients who have already gone through implant surgery. The company also gave doctors instructions as to how to monitor patients who have already received the recalled implants.
Surgeons will be prepared to watch carefully for new or worsening pain in patients with the affected devices and to closely monitor the affected knee and ankle patients for potential wear, osteolysis, and associated failure.
How Do I Know If I Have the Recalled Implant?
Exactech notified patients of the recall. In a letter to the affected patients, the company explained the issue, noting that if the plastic insert is exposed to a large amount of oxygen before implantation, "this can lead to a process called oxidation, which can cause the plastic to wear out earlier than expected or to become damaged after it is implanted into the patient's body."
Premature wear of this nature can lead to the need for revision surgery in some patients. X-ray and other imaging tests can show whether the plastic has been worn or not.
Exactech recommended patients experiencing swelling, pain, inability to bear weight, grinding or other noise, instability, or other new symptoms, contact their surgeons for checkups.
The company also implemented third-party administrator services to assist patients with out-of-pocket costs and claims management related to this recall. Patients can find additional information on the Exactech website recall page.
Before talking to Exatech directly, it is best to talk to an Exactech recall attorney, like Craig Kelley of IKS Injury Attorneys so that you understand your rights before accepting any funds from Exactech.
What Is Premature Oxidation?
Oxidation describes the damage that can occur to a device because of exposure to oxygen. If you've seen rust on your car or brown tissue on cut apple slices, you've witnessed oxidation.
Oxidation occurs because of the interaction of certain elements in an object and oxygen. In a car, for instance, it's the iron that interacts with oxygen to create rust. In an apple, it's the enzymes present in the apple tissues that interact with the oxygen to create that brown color.
In a joint implant insert such as these Exactech liners, it's the polyethylene in the inserts that can interact with oxygen. Manufacturers know that if the liners are exposed to oxygen, elements in them can react with oxygen to create oxidative damage. Like that rust or brown apple tissue, the liner is weakened and degraded by oxygen, making it more likely to fail prematurely after implantation.
Manufacturers have storage bags that can protect inserts like these from premature oxygen exposure. These are specially made to seal in the inserts and keep them safe from the oxygen in the air. The packaging is oxygen-resistant, then there is a secondary barrier containing ethylene vinyl alcohol (EVOH) that further augments the oxygen resistance.
Unfortunately, Exactech failed to make sure that the bags it was using conformed to the standards required to protect the liners. Their bags lacked that secondary protective layer and may have exposed the liners to premature oxidation.
Should I Call Exactech's Claims Helpline?
If you suspect that you may be having problems with your Exactech knee implant, contact an Exactech knee lawyer, like Craig Kelley from IKS Injury Attorneys, before talking to anyone else. If you accept money from the company for your recalled implant, you could limit your chances of recovering damages in an Exactech recall lawsuit.
If you call the Helpline don't accept any offer of financial help before you understand all of your legal rights.
Should I Speak to an Injury Attorney About My Knee Implant?
If you received an Exactech knee implant and you aren't having any problems with it, wait. Keep in touch with your doctor and your regular monitoring appointments to make sure everything looks good with the implant.
If, on the other hand, you are having problems with your implant, or if you have to undergo revision surgery, it's best to contact an Exactech knee implant lawyer at Inserra | Kelley | Sewell. We offer a complimentary initial consultation, where we will discuss your case with you for no charge.
You will learn if you may be eligible to file a lawsuit and we'll help you understand your rights. This will help you feel more confident in determining next steps.
Contact IKS Injury Attorneys Today
If you're facing revision surgery because of a faulty implant, the Exactech recall lawyers at Inserra | Kelley | Sewell are standing by to help. We have been successful at obtaining significant awards in medical device lawsuits and want to help you get the compensation you deserve.
You need to focus on healing and getting back to your life. You don't want to worry about medical expenses. A successful Exactech lawsuit can give you the peace of mind you need.
Contact Craig Kelley: 1-800-642-1242
We work hard for our clients by listening to their needs, focusing on their health, and then fighting aggressively for the help they need. Below are testimonials from some of these great clients. Contact us to see how we can help you.