Diabetes Drug Invokana and Amputation Risk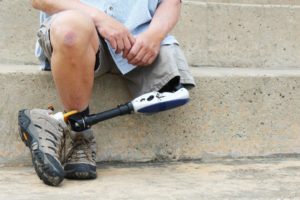 The U.S. Food and Drug Administration (FDA) informed manufacturing giant Johnson & Johnson in May, 2017 that they must put new warning labels on diabetes drug, Invokana (generic, canagliflozin), and its variations, Invokamet and Invokamet XR.  The new warning is to alert the consumer to the clinical study findings that taking the diabetes drug can put them at double the risk of amputation of the leg and/or foot.   The clinical studies,  CANVAS and CANVAS-R were studies done by Johnson & Johnson that the manufacturer was counting on to show that Invokana was safe.  The opposite was true and the drug had already had a past reputation for its side effects of diabetic ketoacidosis, bone fractures, heart attacks, strokes, in addition to the increased risk of amputations.  For consumers taking Invokana, the FDA warns to look out for pain/tenderness, sores, ulcers, or infections in the leg and feet that are new since taking the drug.  These conditions bring a much more significant chance of partial or total amputation and must be monitored carefully. 
If you or a loved one has been negatively impacted by Invokana, Invokamet, or Invokamet XR (or the generic form, canagliflozin), or other medical device, drug, or products, consult your medical provider and do not hesitate to contact  Inserra Kelley Sewell, Personal Injury Attorneys, to discuss your possible claim and entitlement to compensation for your damages.   
To learn more, visit: When it Comes to Invokana Diabetic Drug Lawsuits, We're Fighting for Nebraskan's Rights 
https://inserra.com/wp-content/uploads/2018/07/inserra-kelley-sewell-omaha-attorneys-logo-2-ssl.png
0
0
admin
https://inserra.com/wp-content/uploads/2018/07/inserra-kelley-sewell-omaha-attorneys-logo-2-ssl.png
admin
2017-06-20 10:17:49
2018-01-12 02:30:11
Diabetes Drug Invokana and Amputation Risk