Zantac Cancer Lawsuit – Nebraska and Iowa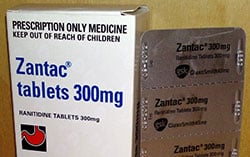 Zantac Lawsuit: Cancer Risks for Nebraska Consumers
A significant number of reports link Zantac to cancer cases. Zantac (generic: ranitidine) is a popular drug used in controlling heartburn. Recent lawsuits against Zantac manufacturers allege that the product contains dangerous levels of a known cancer-causing chemical called N-Nitrosodimethylamine (NDMA). A Zantac lawsuit seeks to hold manufacturers liable for allegedly concealing the cancer dangers associated with the product. Zantac belongs to a category of pharmaceuticals called "H2 blockers." These types of drugs work by lowering the amount of stomach acid the body produces. As an antacid medication, Zantac has been available for several decades now, for uses like:
Heartburn and upset stomach
Ulcers
Acid reflux
Various gastrointestinal and throat issues
Inserra | Kelley | Sewell wants you to know if you took Zantac for any of these conditions, and were subsequently diagnosed with cancer, you may be eligible for a Zantac lawsuit covering your injuries and losses. In cases involving the loss of a loved one, wrongful death damages may also be appropriate.
Does Zantac Cause Cancer?
The higher levels of NDMA impurities in Zantac medications are linked with an increased cancer risk in humans. The U.S. Food and Drug Administration (FDA) has released several advisory notices alerting the public of NDMA impurities present in Zantac and ranitidine medications. NDMA has been described as a "known carcinogen" in test animals, and humans may be particularly sensitive to NDMA exposure.
NDMA, Zantac, and ranitidine have a history of being associated with several types of primary cancers in humans. These include:
Stomach cancer
Testicular cancer
Small intestine cancer
Colorectal cancer
Esophageal cancer
Liver cancer and other cancers
Besides these major cancer risks, Zantac side effects can also include
headaches
abdominal pain
nausea or vomiting
and other conditions.
There are also health concerns associated with infants, as Zantac was commonly prescribed to babies for acidic stomach and other conditions.
If you or a loved one have been diagnosed with any of these types of cancer after using Zantac, you should contact a Zantac injury attorney. The Zantac Lawyers at ISK are available at 800-642-1242 for a no-cost, private consultation to discuss your legal options moving forward.
Zantac Recalled
The FDA has requested that all Zantac products be removed from the market. As a result of this request, Zantac (and its generic counterparts) will no longer be allowed for over-the-counter sales or through prescriptions.
Many companies have already begun the process of withdrawing and recalling Zantac products to reduce risks to consumers. .
Get in Touch with an Experienced Zantac Attorney
The injuries caused by Zantac are affecting many consumers who might not know that they are entitled to legal recourse. At ISK Injury Attorneys, we understand the types of issues and challenges such conditions can cause, and are here to provide you compassionate, responsive legal guidance.
We work tirelessly to get you on the right track for justice and recovery. Contact Craig Kelley at 800-642-1242 for an evaluation of your case. Calling is the first step towards regaining your life. We provide representation for clients all over the midwest USA with unparalleled experience and results.
Other resources:
Zantac Heartburn Medication Contains Cancer Carcinogens
https://inserra.com/zantac-heartburn-medication-contains-cancer-carcinogens/
Heartburn Drugs Can Equal Dementia
https://inserra.com/heartburn-drugs-can-equal-dementia/
We work hard for our clients by listening to their needs, focusing on their health, and then fighting aggressively for the help they need. Below are testimonials from some of these great clients. Contact us to see how we can help you.